Art Deco Polished Nickel Time Lag Staircase Switch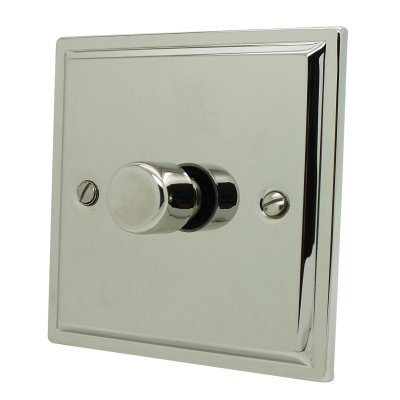 Socket and Switch Sizes - Single 92mm x 92mm, Twin 152mm x 92mm
Important - These large size sockets and switches replace standard fittings using the normal screw spacing, so no special work required.
These sockets and switches have an expected standard delivery time of between 2 to 4 working days.
Notes
What is a Time Lag Staircase Switch?
Staircase Time Lag Switches are designed for use in common areas where you might have multiple switching positions on a common lighting circuit where a temporary use of light is required. These are most commonly used to switch lights on in a stairwell and the beauty of this is that they will switch themselves off after a pre-set time.
Previously Staircase Time Lag switches have only been available as air-operated push buttons and as they were only available in a plain white finish with an unsightly large white button plunger they were found to be unsuitable for many properties where something more stylish was a requirement.
When using any version of Time Lag Staircase switch you cannot use standard on/off light switches on the same circuit - all the other switches for the lights will need to be the same Time Lag Switches.
At Sockets and Switches we have two versions of the Time Lag Switch - Retrofit and Module.
Retrofit Time Lag Switches
We have introduced a Retrofit Staircase Time Lag Switch to our range. These decorative switches simply replace the old White air-operated push button type.
For simplicity of installation the Retrofit Time Lag models do not require a neutral and as such can be used as a straight replacement for your existing light switch.
The switch has a fully adjustable time delay from 1 minute up to 2 hours, to alter the delay you simple adjust the setting on the rear of the switch when installing. On use the user presses the push button on the switch to briefly switch the lights ON and then after your pre-set time has elapsed, the lights will switch OFF automatically.
You have a choice of a standard button switch or an illuminated version with a location light which remains lit until the switch is pressed to help find the switch in the dark. When pressed the location light goes off as the lights come on; once the time lag period has elapsed the location light then comes back on.
Important - never use a Retrofit Time Lag Staircase Switch that is not rated higher than the load applied to it – the maximum loads for the Retrofit switches are 1500w (240v) or 1000w (Fluorescent) or 500w (LED). The switches can also be used for Fans or Halide Lights up to 250w.
We recommend a 35mm deep wall box as these switches are approximately 29mm deep.
Module Switches - only available in certain styles
This version of the Time Lag Switch requires a module to be fitted into the circuit to work. You will require only one Staircase Time Lag Module per circuit and are usually located remotely and out of sight. This means you can have fully deccorative switches where the light is required and any number on the circuit and can be combine Staircase Time Lag Switches with Toggle Light Switches on the same plate if required.
The module has a fully adjustable time delay setting from 30 seconds up to 10 minutes that is pre-set on installation – this then enables the users to press the push button Staircase Time Lag Switch briefly to switch ON the lights then after the pre-set time has elapsed the lights will switch OFF automatically.
Important - never use a Staircase Time Lag Module that is not rated higher than the total load applied to it – the maximum loads for the module are 2300w (240v) or 1500w (12v) or 1000w (Fluorescent) or 460w (LED).
We recommend 25mm or 35mm deep wall boxes for mounting our button dimmer switches.
If you require any advice or assistance please call our sales team on 01926 289289.
Customer reviews for the Art Deco Polished Nickel Time Lag Staircase Switch
No reviews yet - Be the first to Rate the Art Deco Polished Nickel Time Lag Staircase Switch
Other reviews for Art Deco Sockets & Switches are
Average customer rating:
5

stars

11 reviews
Very Smart
06 April 2021 by Alan, Manchester - Verified Customer
Very smart and very well made. Hard to put into words how good these are. 6 out of 5.
Superb
26 March 2021 by Charlie, Richmond - Verified Customer
This toggle switch looks amazing and the switches have a good solid feel to them. Very pleased and now looking at these for other rooms, maybe in a different finish.
Smart Shaver Socket At Good Price
23 March 2021 by Deb, Birmingham - Verified Customer
I'm very pleased with it.
Great
22 March 2021 by P George, Chesterfield - Verified Customer
Great looking light switch and great to have a dimmer and light switch on the same light switch.
Expensive But Soooo Nice
23 January 2020 by Alison Hughes, Kent - Verified Customer
Took me ages to decide to buy these expensive switches - fitted some cheaper ones from Homebase but they looked and felt cheap and ruined the look in the house (to me anyway). I bought these for just one room and once they arrived and were fitted you could instantly see the difference and the quality. They say you get what you pay for and thats certainly the case here - in the end I pushed the boat out and did the whole house and Im so glad I did. Thank you Alison
Took A While But Worth The Wait.
27 June 2019 by Jan Clarkson Design, London - Verified Customer
Took 3 weeks to arrive but Im glad I waited - these faceplates are stunningly good. Top quality and the finish is superb.
The Best Ive Seen
17 May 2019 by Ryan Beckham, Manchester - Verified Customer
Lightswitches of true quality. Well made and look fab and easily the best range Ive seen.
Brilliant Product
20 March 2019 by Neville Electrical Services, Brackley - Verified Customer
Cannot pick a single fault with these items. Over the moon with my purchase.
Worth The Wait
12 March 2019 by Nathanial Gaylor, London - Verified Customer
I waited 3 weeks for these (didn't realise they were made to order) but they were well worth the wait. Simply exquisite and finished my new interior design project perfectly. I had Polished Nickel which is quite a hard finish to find in any design that's not flat. 10/10
Great Art Deco Design
27 February 2019 by Fred Ashworth, Hampton - Verified Customer
These look the part in my Art Deco inspired house.
Perfect For My Listed Property
23 February 2019 by Adrian Charlesworth, Salisbury - Verified Customer
The Art Deco range I purchased was very well made and was the perfect range for my Grade 1 listed property. I have no hesitation in recommending this product.
---
Time Lag Staircase Switches are available in the following styles -
Antique Edge , Art Deco , Art Deco Classic , Art Deco Dual , Art Deco Supreme , Black , Burnished Flat , Classic , Classical , Classical Aged , Contemporary Screwless , Crystal Clear , Disc , Dorchester , Duo , Duo Premier , Duo Premier Plus , Edwardian Classic , Edwardian Elite , Edwardian Premier Plus , Edwardian Supreme , Elegance , Elegance (Antique) , Elegance Elite , Elite Flat , Elite Paintable , Elite Square Paintable , Ellipse , Executive , Executive Square , Flat Matt , Flat Vintage , Flat Wood Veneer , Flatplate Supreme , Georgian , Georgian Flat , Georgian Premier , Georgian Premier Plus , Grandura , Granite Stone , Hand Forged , Heritage Flat , Low Profile , Low Profile Rounded , Natural Elements , Palladian , Precision Edge , Regal , Regency Classic , Regency Premier Plus , Regent , RetroTouch Crystal , RetroTouch Simplicity , Screwless Aged , Screwless Paintable , Screwless Square , Screwless Supreme , Seamless , Seamless Colour Match , Seamless Square , Seamless Square Colour Match , Square , Square Classic , Textured (Screwless) , Ultra Square , Victorian , Victorian Premier , Victorian Premier Plus , Vintage Oak , Vogue , Warwick & Warwick Antique