Dimming Pack Dimmer Pack (for Button Dimmers)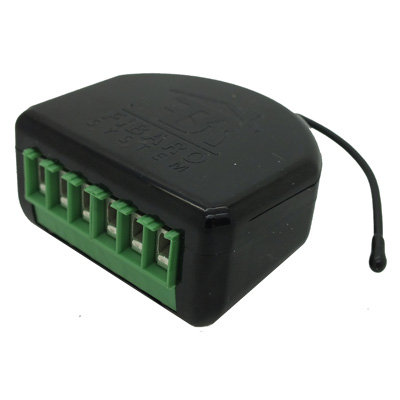 These sockets and switches have an expected standard delivery time of between 2 to 4 working days.
Notes
What is a Dimmer Pack (for Button Dimmers)?
Button Dimmers require a dimming pack on the circuit to make them work. Button Dimming Plates are actually momentary push to make switches similar to a Bell Push that you might use on your front door. We can supply up to 12 Button Dimmers on a plate and we can combine them with toggle on/off switches if you have circuits you do not want to control with a button.
Button Dimmers are a very stylish alternative to the standard push on/off rotary dimmers but they do require that you locate a dimming pack in-line away from the Dimming Plate. This has the advantage of eliminating any buzz noise often associated with the installation of a standard push on/off rotary dimmer as the dimming pack will usually be installed into the roof void or some other accessible void away from the Button Dimming Plate itself.
The other major advantage over the standard style push on/off rotary dimmer is that you can install multiple Button Dimmers onto the same circuit and this will enable you to dim your lights from several locations on that circuit whereas with a standard style dimmer you can only have one dimmer per circuit with the other positions being controlled by a simple on/off switch which is not always convenient.
With Button Dimmers you cannot use standard on/off switches on the same circuit and all other switch positions will also need to be a button dimmer. Fortunately you only require one Dimming Pack per circuit.
You do have the option to use a Button Dimmer as a simple on/off switch and this is achieved by simply deactivating the dimming function on the dimming pack by pressing the 2 deactivation buttons on the pack at the point of installation.
Our Dimming packs will dim any leading edge LED or Incandescent load from 10w up to 250w. A 1000w incandescent only version is also available.
Never use a dimmer pack that is not rated higher than the total load applied to it.
We recommend 25mm or 35mm deep wall boxes for mounting our button dimmer switches.
Customer reviews for the Dimming Pack Dimmer Pack (for Button Dimmers)
No reviews yet - Be the first to Rate the Dimming Pack Dimmer Pack (for Button Dimmers)
Other reviews for Sockets & Switches Sockets & Switches are
Average customer rating:
5

stars

21 reviews
Put Together Own Switches
07 April 2021 by Kim, Exeter - Verified Customer
Made our own switches to match what we had in the kitchen. Named switched really useful for knowing what it switches.
Updated Current Unit
04 April 2021 by Mike, Diss - Verified Customer
Updated current unit
Quality
04 April 2021 by Gareth, Edgbaston - Verified Customer
Excellent bit of kit, easy to install, looks far more expensive than it is.
Proper Boxes
03 April 2021 by Adrian, Reading - Verified Customer
Bought these boxes as solid metal not metal over plastic. More expensive but really good quality.
Brilliant
03 April 2021 by Harry, Cirencester - Verified Customer
The switch fits in, works well and matches the other switches in the house.
A Good Find
27 March 2021 by Steve, Ipswich - Verified Customer
These are a good find for a customer that wanted non plastic wall boxes. Bookmarked for future projects.
Awkward Switch Fixed!
26 March 2021 by Margot, London - Verified Customer
We needed a switch to fit inbetween two door frames at the top of the stairs but the design of the house only left a small gap to fit it into. After searching, this switch fits perfectly and we can have our three switch lighting for the stairs and landing.
Ideal Replacement
25 March 2021 by Daisy, Reading - Verified Customer
Replaced our old bathroom light switch with an almost matching one. Surprised they are still made now.
Solid!
21 March 2021 by Stuart, Winchester - Verified Customer
Real solid metal wall boxes. Even better comes in different colours. Used twice for customers already.
Fits Perfectly
21 March 2021 by Chris, Lancashire - Verified Customer
The switch fits perfectly in the narrow space between 2 doors. Great buy.
Glad I Found These
20 March 2021 by Lenny, Cardiff - Verified Customer
Had some older speaker posts that were looking tatty and starting to cause interference so glad found these to replace them
Seems Obvious Now
14 December 2020 by Anna, London - Verified Customer
After looking everywhere for a thinner switch finally found these. Great idea and fits beautifully. If only I would have known would have saved a lot of time.
Dimmer Knobs Metal
28 May 2020 by Dom Stinton, Manchester - Verified Customer
Was plesently surprised these knobs are metal not plastic so bargain at the price and easy to fit.
Useful Find
28 May 2020 by S Gill, Birmingham - Verified Customer
So glad to find these dimmer buttons. Saved me having to buy a whole new unit. Extensive choice of colours too.
Unique Hard To Find Item
03 May 2020 by Trevor Bayliss, Powys - Verified Customer
So happy to find a solid wall box to match my socket. Didnt realise that it would be like trying to find the Holy Grail.
Brilliant
25 June 2019 by Gerald Bradley, London - Verified Customer
Very happy with these hard to find surface socket boxes. Spot on!
Perfect Hard To Find Item
10 June 2019 by Jason Delaney Interiors, London - Verified Customer
I searched everywhere for surface mount boxes in Black and in Bronze. After weeks of searching I found these and they are perfect. Very well made too.
Great Idea
14 May 2019 by Jonnie Batchelor, Bristol - Verified Customer
These set my job apart and my client was over the moon with these boxes. Well made too.
Brilliant
13 March 2019 by Reg Sharples Electrician, London - Verified Customer
Hard to find - these are very well made and I was able to drill them easily. Perfect item for mounting switches on the bare brick wall.
Problem Solved
23 February 2019 by J Blenkinsop, Royal Lytham - Verified Customer
I have a listed building so I cant mess around burying cables and disturbing the walls. These very well made surface boxes matched my socket fronts perfectly and it was problem solved. I had to wait two weeks for delivery though but I understand that these are made to order. Well worth the wait and the money.
Great Product & High Quality
25 January 2019 by Harry Jones, Harlech - Verified Customer
Im amazed to find these as I was searching for months. Extreme quality these are very solid. 10/10
---
Dimmer Pack (for Button Dimmers)s are available in the following styles -