Jacobean Medium Oak | Black Nickel Sockets & Switches
This Range & Finish Is Not Available Currently
The combination you have choosen is not currently available. Below are some ideas or use the right hand menu to continue searching for the sockets and switches to match your room. If you have a specific enquiry please email us or call 01926 289 289.
Find A Sockets & Switches Finish To Match Your Room
Choose from a wide range of light switches, single and double sockets, dimmers, aerial sockets, phone sockets,fused spurs and more. Just start by choosing your finish ...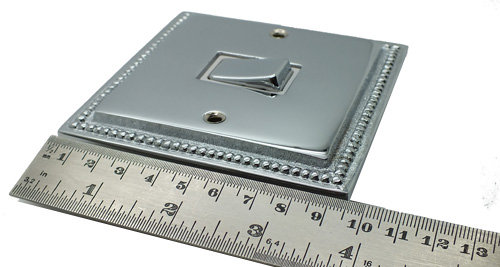 Need Large Sockets & Switches?
Our range of large size sockets and switches are perfect when you need that extra bit more. From 95mm and up. Just replaces standard fittings so no special work required.

Make The Electricity In Your Home Smart

Smartly control all the lighting plus plug sockets & heating in your home with Lightwave RF.
Find out the benefits having a Lightwave Smart Home and the advantages of using Lightwave.
Works with




Floor Sockets
Get floor sockets to match your interior style with 16 finishes to chhose from. Cannot find a match, then we have a paintable version so you can match exactly the paint in your room.
In addition we now also have floor sockets that you can plug in and the flap closes flat just leaving the cable coming out. Or choose from our wood veneer range to blend in with your wooden floor.


Retro Industrial
Traditionally cast, these sockets and switches capture the past modernity in a tribute to retrofuturism.
Individually hand made from recycled metals, each is a work of art in it's own right. Very steampunk.

RetroTouch – Defined by Design
RetroTouch Sockets and Switches are ideal for anyone looking for an affordable and stylish way to finish their home, office or hotel. They are modern, sophisticated and UK designed and provide that special touch to complete the interior designer look.
The unique design of the light switches cleverly combines the latest technology with carefully considered looks. Each unit features glass panels in a variety of appealing designs to suit modern, cutting edge, contemporary interiors as well as classic interiors too. Find out more & see the full range >

Get in Shape!
Looking for something a little different? Look no further than our range of shaped Sockets and Switches. These iconic plates are available in a round Disc or Oval design and are offered in 6 different finishes.
The unique shape of these plates will certainly catch the eye and offer a creative statement to enhance your interior design. These shaped plates fit your existing wall box so replacement is easy and quick to install.
View Shapes range.